Variety Helps Families Obtain Freedom Concepts Adaptive Bikes
Editor's Note: Having grown up with an aunt with cerebral palsy, advocating for the disability community has always come naturally to Erica Lopez. Seeing her aunt make the most of her abilities both at home and in her professional life, Lopez came to realize that by having access to essential resources and tools, a person with a disability can excel far beyond society's expectations of them. Today, Lopez continues to be an ally of the disability community as the executive director of the national office of Variety – the Children's Charity. Wheel:Life writer Betsy Bailey talked to Lopez about the work Variety is doing across the world and why the nonprofit feels providing access to adaptive bikes for children with disabilities is indispensable.
A Worldwide Charity
I've been with Variety for about 14 years now. The national office is based in Los Angeles, but we have 21 chapters across the country. We're a global organization as well, so we have branches in 14 countries including Canada, the United Kingdom, Australia, and Israel.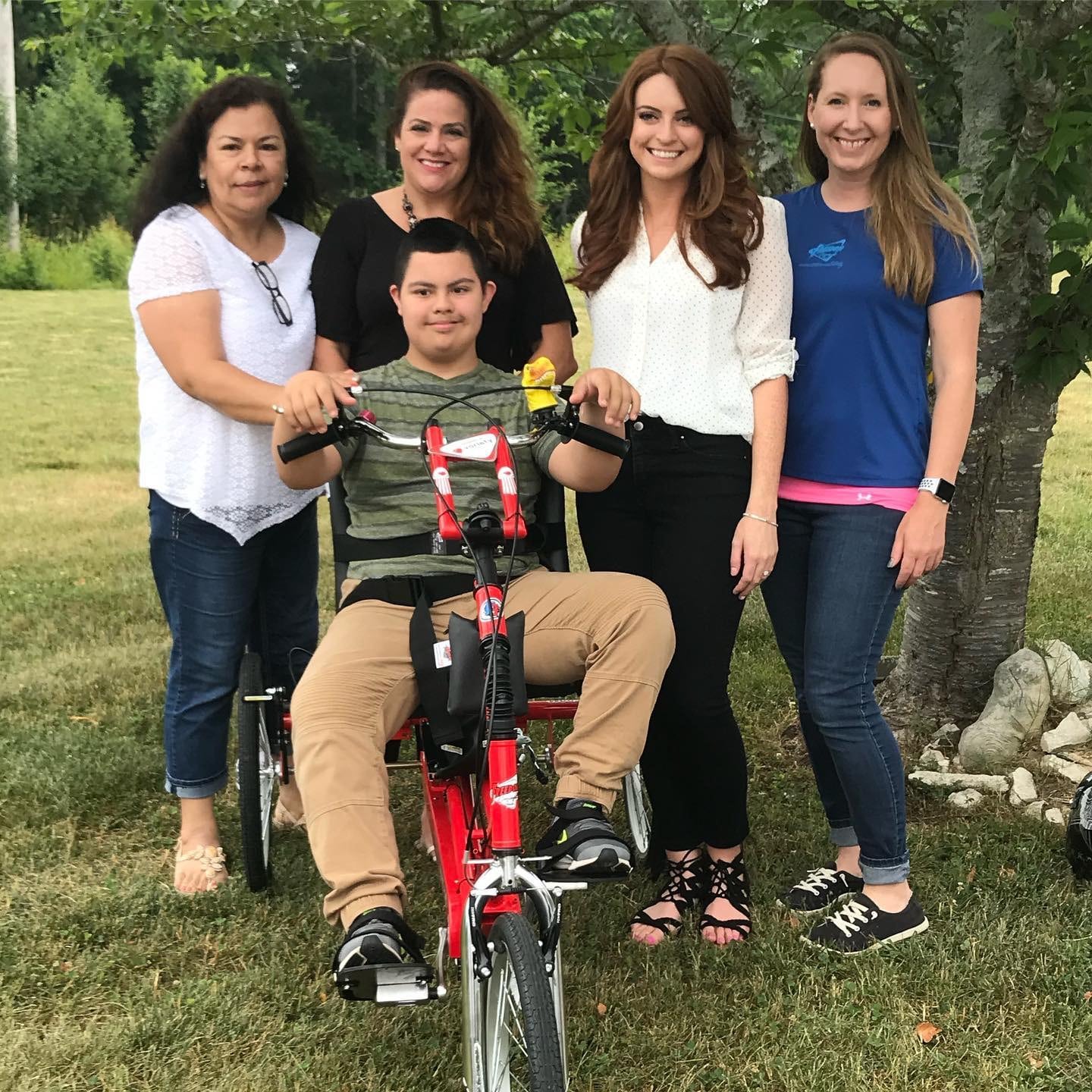 How Variety Addresses the Needs of Children  
Variety has three different programs. One is called the Care Program, which helps with medical care as well as equipment such as hearing aids and prosthetics. Our Future Program provides communication devices, like iPads loaded with apps for non-verbal kids, and scholarships for education, arts, and adaptive sports. Our Freedom Program helps with mobility devices such as wheelchairs, walkers, lifts, and adaptive bikes.
The Variety and Freedom Concepts Partnership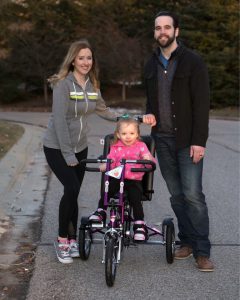 Variety recognizes how challenging it is to raise a child with a disability.
We know that it costs four to five times more than it does to raise a child without a disability.
When you factor in things like medication, doctors appointments, and therapies, it adds up quickly, so purchasing an adaptive bike is out of reach for many families. Most health insurance providers won't cover something like that because it's not deemed a medical necessity. That's where Variety's Freedom Program steps in to fill the gap so that children can not only exercise and improve their strength and range of motion, but they also feel included as part of the community. They can play with siblings, friends, and classmates and not be left on the sidelines.
When Variety first decided to include adaptive bikes as part of the Freedom Program, we researched various vendors. Freedom Concepts was and has continued to be very helpful in terms of providing us with the support and knowledge to understand what goes into an adaptive bike and how to choose one for a child. They work directly with the families and offer them options if they're unable to afford an adaptive bike. Freedom Concepts meets with the kids to measure them and ensure the bikes are fully customized to their needs.
Buying a traditional bike for a child with a physical disability is typically unsafe. They may not be able to propel independently or may need extra trunk support, for example. Freedom Concepts focuses on what is best for each child whether that means putting on custom handlebars or adding a chest harness.
They ensure the bike will be safe as well as fun to ride.
You can tell there's a lot of heart and a personal relationship that goes into what they do with each of their clients. They've been wonderful to work with.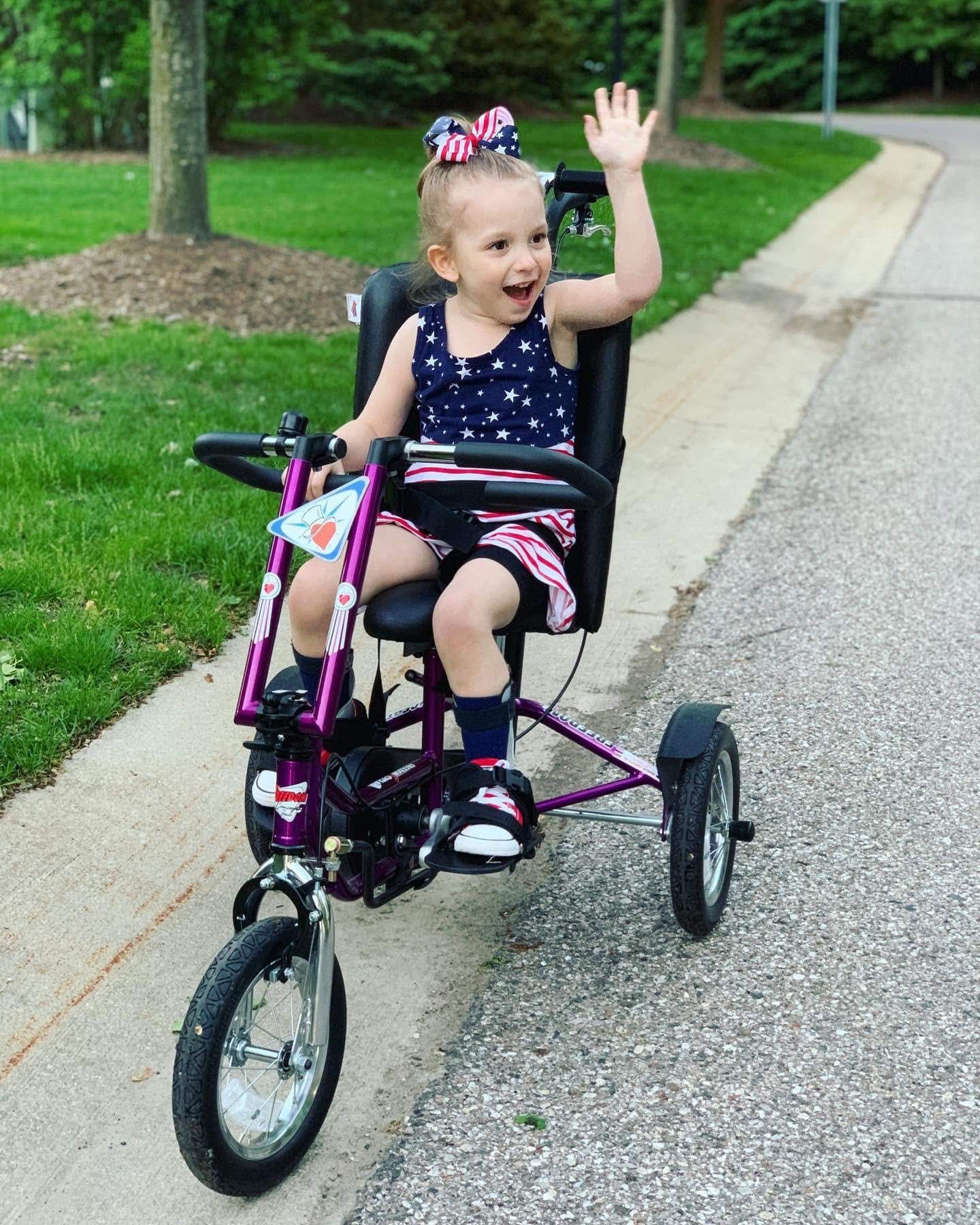 Building Confidence for a Brighter Future
One kid especially sticks out in my mind. His parents told me that he had a yellow helmet, and he would wear it to the park, but he'd just sit on the bench and watch the other kids because he couldn't ride a bike. It wasn't until Variety helped fund an adaptive bike for him that he was able to use the helmet for its intended purpose and ride his bike with the other kids.
Children with disabilities have so many challenges in life.
If Variety can do anything to help them integrate and show them that there's a lot they can do, it opens that door in terms of what they believe they can achieve for themselves — not only now, but in the future.
We've followed some of our recipients and seen them grow up to accomplish many things. I think it's easy to say, "It's just a bike," but providing them with a way to ride down the street and wave to their neighbors makes them feel included in the community and gives them a sense of independence. So many families have told us they never thought their child would be able to ride a bike, but when they saw them test an adaptive bike and ride it for the first time, they started crying.
It's something they were not expected to be able to do, and they blow their parents' minds with what they can achieve.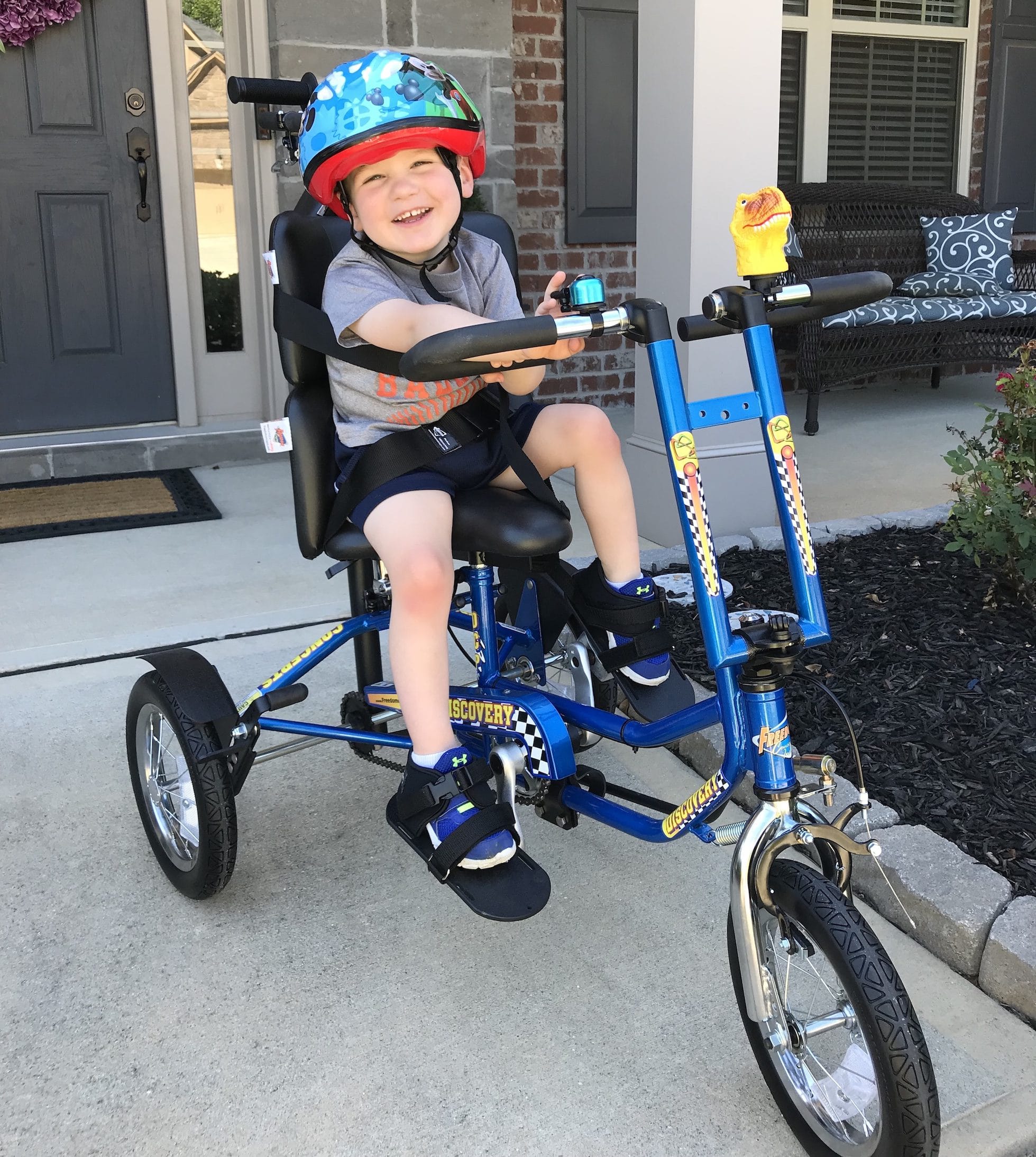 Is an Adaptive Bike Right for Your Child?
Sometimes parents have a fear of letting their child ride a bike if they haven't tried the right one. Maybe they've seen their kid on a traditional bike that wasn't outfitted for them, and they fell or felt scared. It's difficult to see your child experience that. Finding the right bike for a child provides them with the sense of freedom, independence, and inclusion they deserve to have.
They're children. They should go out and have fun!
Editor's Note:  Many children have received adaptive bikes through the generosity of Variety – the Children's Charity. To apply for financial aid for a Freedom Concepts adaptive bike for your child, visit USVariety.org, and contact your local chapter. If there isn't a branch near you, get in touch with the national office for further information.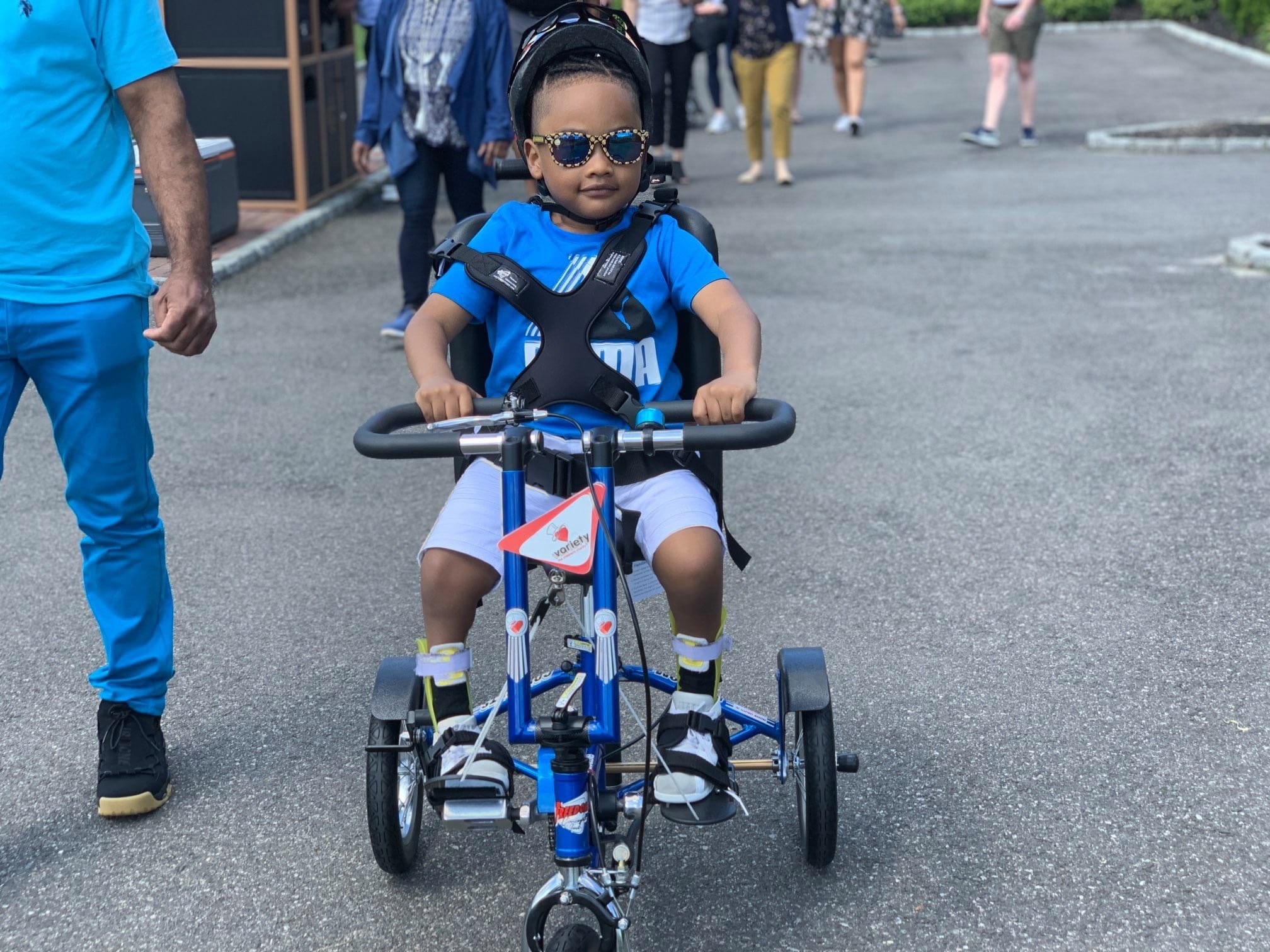 Become a Gold Heart Pin Collector
Our biggest national fundraiser is called the Gold Heart Campaign. We work with a different film studio every year to design a lapel pin in the shape of a gold heart with a movie character on it. We sell them for $3 in around 800 movie theaters across the country.
It's a small donation, but it adds up to about $1 million every year for the charity.
The pins are limited-edition, so people get excited about collecting them and look forward to the release of the newest version each year.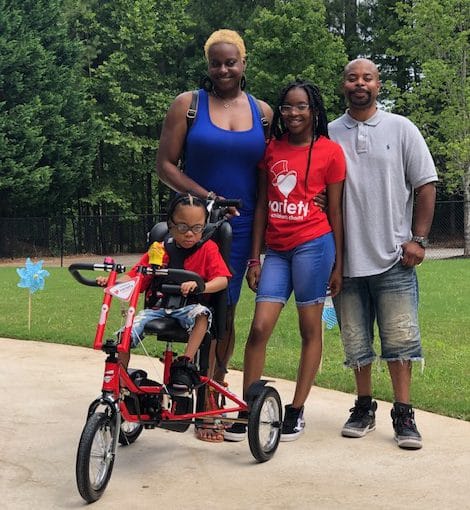 The film studios are wonderful supporters of ours. Celebrities have been involved in the past by filming public service announcements that run in the theaters and encourage people to donate and get the pin. Last year, we worked with Disney and featured Mary Poppins and her kite on the pin. Emily Blunt and Lin-Manuel Miranda from Mary Poppins Returns filmed a PSA where they talked about Variety and asked people to consider buying a pin at the theater.
Editor's Note: This year's film character is yet to be announced, but look out for the 2019 collector pin at movie theaters near you sometime this fall.
A Word from Freedom Concepts
Editor's Note: Wheel:Life also spoke with James Wall, a Senior Territory Manager with Freedom Concepts. Here's what he had to say about Variety's involvement with providing adaptive bikes for children.
With the medical expenses families incur, an adaptive bike often becomes a luxury item that is not a realistic out-of-pocket purchase. Physical therapists, who typically are the ones recommending equipment, are reluctant to tell families how beneficial adaptive bikes are because they know they are often cost-prohibitive. Variety's commitment to helping families has changed the mindset so that many therapists feel confident in talking about adaptive bikes and their benefits.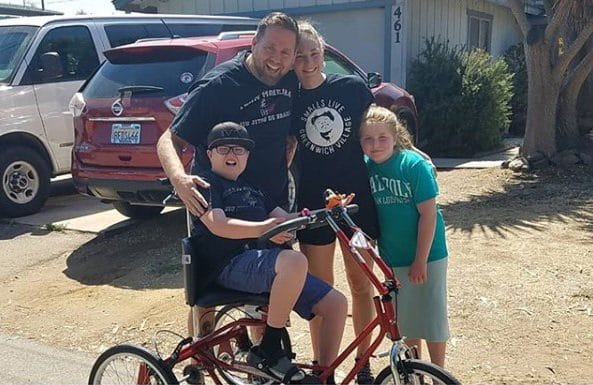 I love meeting the families and seeing the reaction of a child riding our tricycle for the first time as well as the expression on a parent's face who maybe thought bike riding wasn't possible for their child. As rewarding as this experience is, when it comes time to talk pricing, the mood often changes.
I can't put into words what it means to have a partner like Variety who is willing to help.
They are truly a special group of staff, board members, and volunteers who understand what the disability community needs in terms of equipment and services. As a cyclist myself and someone who grew up riding a bike with neighborhood friends, I feel it's an experience that every child deserves. It's truly a rite of passage.
Editor's note: To learn more about Freedom Concepts, visit FreedomConcepts.com, and check out these stories about families who enjoy their adaptive bikes:
About the Author
Betsy Bailey has a diverse background that includes experience in marketing research, business operations, travel and culinary writing, and playing volleyball professionally overseas.
Betsy has been writing for Wheel:Life since January of 2017 and thoroughly enjoys the process of getting to know her interviewees. She also practices parkour, speaks French fluently, and travels any chance she gets!