Visit these Bucket-List Accessible Travel Destinations in 2019
This New Year, resolve to explore your world with these U.S.-based accessible travel destinations at the top of your bucket list! These accessible travel suggestions and related photos below are part of the Wheels UP! Accessible US Travel Event that is a joint educational initiative between SPORTS 'N SPOKES magazine, the Spina Bifida Association, Abilities Expo and Cure Medical.
1. Adaptive Snow Skiing in Colorado
In this day and age, people with limited mobility have a variety of options when it comes to snow skiing. People who use wheelchairs can grab a sit ski, which gives them the ability to participate in alpine, or downhill skiing, as well as cross country, where skiers use poles to propel themselves through the snow. If you're worried about getting cold, it's all in the gear. As long as you have the proper attire, your activity while skiing is sure to bring up the body heat and keep you warm!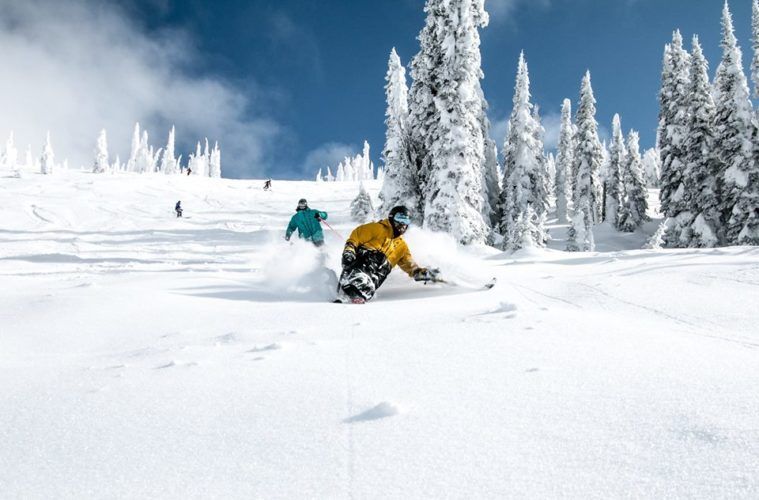 While there, be sure to visit the Breckenridge Outdoor Education Center.
The BOEC was established in Breckenridge, Colorado, in 1976 as a non-profit tax-exempt educational organization to provide outdoor experiences for people with disabilities. They welcome people of all abilities from around the world to spectacular natural classrooms in the Rocky Mountains and beyond.
LEARN MORE ABOUT SIT SKIING HERE.
2. Crest the Summit of Mt. Washington on Wheels
Outdoors adventurer Brenna Bean says, "I am all about adaptive adventures! I am a huge fan of the things outside, challenging, and beautiful! I believe that the power of the great outdoors and overcoming physical challenges in the natural world is one of the most empower things that people with disabilities can do."
"Instead of asking an environment to change to meet our needs, conquering challenges in the outdoors means that we ourselves must change and adapt to achieve our goals and the relentless reward of Mother Nature. This photo was taken about 4,000 feet up Mount Washington, just above the tree line. After a grueling climb with a great friend in the White Mountains of New Hampshire, we reached the summit at over 7,000+ feet!"
MEET MORE WOMEN WHO EXPLORE THE WORLD ON WHEELS HERE.
3. Discover the Ocean Down Below the Florida Coast
Amanda writes, "This picture was taken at Maclay Gardens State Park in Tallahassee, Florida as I am about to go scuba diving. In the picture, you can see me in the middle in the wheelchair. I was born with spina bifida and am paralyzed from the waist down."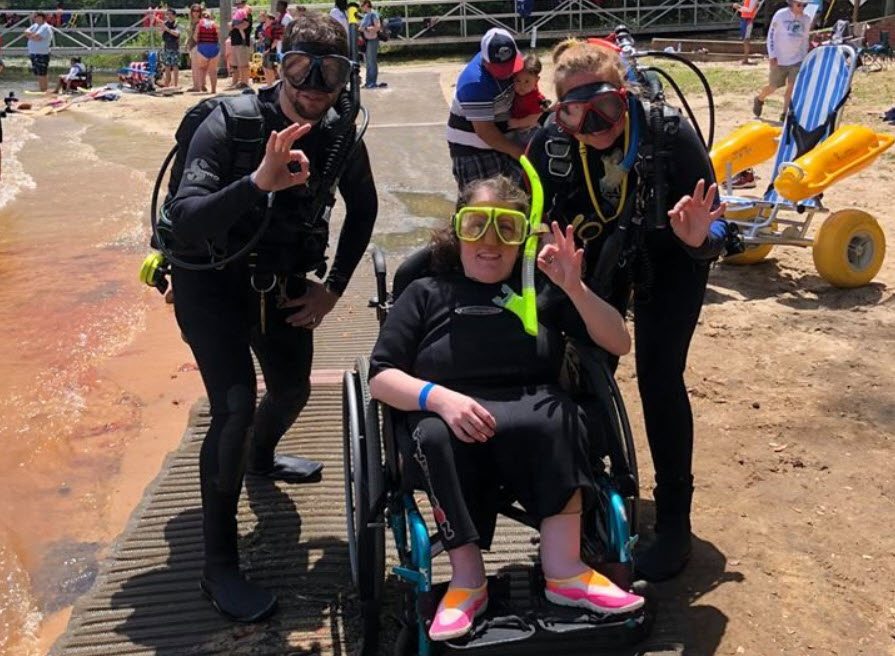 "On the right you see Gabrielle Gabrielli with one of her co-workers, Craig Bryan. Gabrielle is the owner of Life Worth Leading, a nonprofit organization based in Tallahassee, Florida. Life Worth Leading uses SCUBA as a way to help improve leadership skills, get people out of their comfort zones, build self-confidence, increase communication skills, improve emotional intelligence, build problem solving skills, and more."
Connect with the Life Worth Leading SCUBA team here.
Looking for more accessible adventures? Get all of the Wheels UP! accessible travel ideas in one handy reference guide – download your free copy here!
Hitting the Road?
Choose a Cure Catheter that Makes Travel Easier
Have you seen the extra long M14XL Cure Catheter? This 25-inch long catheter eliminates the need for extension tubing and may also save you from having to transfer in a public restroom.
The sterile, single use, Extra Long Cure Medical Pocket Catheter is not made with scary chemicals like DEHP, BPA or Natural Rubber Latex. It also offers discreet portability by easily fitting in most pant pockets.
The Cure Medical M14XL Extra Long Pocket Catheter is offered with polished eyelets on a straight tip and funnel end in an extra long (25") length. It is also available as an extra long (XL) with lubricant and gripper sleeve.
To request free samples of the Cure Medical® Extra Long Pocket Catheter or any Cure Medical catheter, contact your local distributor of quality healthcare products, or click here.