Paralyzed Veteran's Mom Awarded Dream Trip by ElDorado Mobility
Editor's Note: Serving our country as a military service member is an honor and many times, changes the life trajectory of those who serve. Unfortunately, during combat, many pay the ultimate price for their service. By sharing Marine Sergeant Shurvon Phillip's story, we recognize our many disabled veterans, and their families, for our loved ones often step in to take up the fight for those who have been hurt in the line of duty. Thanks to Wheel:Life partner ElDorado Mobility, this military family will have a bright moment to celebrate Shurvon's life of service.
Before he was injured in Al Anbar, Iraq, Marine Sergeant Shurvon Phillip told his mother, Gail Ulerie, 48, not to worry about his safety. "Everything is gonna be all right, Ma," he told her. "I'm reading my Psalms."
Then, in May 2005, Shurvon's Humvee hit a landmine.
The New York Times reported that at the time of the explosion, "The Humvee's other soldiers were tossed in different directions and dealt an assortment of injuries: concussions, broken bones, herniated discs.
Along with a broken jaw and a broken leg, Shurvon suffered one of the war's signature wounds on the American side: though no shrapnel entered his head, the blast rattled his brain profoundly."
Shurvon's catastrophic injuries left him with a severe brain injury, causing him speech and motor-function impairment and necessitated his use of a wheelchair for many of the past 11 years. Unable to speak, the resulting brain injuries also left him quadriplegic.
Gail, an immigrant who came to the States from Trinidad, had to quit her two jobs in home healthcare so she could take care of her 27-year-old son. Devoted to her son's recovery, momma Gail slept in a twin bed every night next to her son's bed at the Walter Reed National Military Medical Center in Bethesda, Md., throughout his lengthy hospital stay, and continued her commitment to his health after he was released from the hospital.
Gail's Journey as Shurvon's Caregiver
When Gail saw Shurvon for the first time at Walter Reed since he had been sent to war a few months before, the left side of his skull had been cut away to relieve the pressure of the casing of bone against his swelling brain. "His head," she told the New York Times, "looked like a ball with the air half out of it." She was confronted, too, with a CT scan taken by the hospital. "I didn't do much biology, but I'm thinking, That's not a brain I'm looking at," she said, describing her reaction. "Everyone has a right hemisphere and a left hemisphere, but this didn't look like that. Do you remember Play-Doh? When children play with Play-Doh" — she slammed her palms together to demonstrate — "it's just a gray blob. That was Shurvon's brain."
After leaving Walter Reed, Shurvon had additional rehab under the care of Dr. Felise Zollman, a neurologist who runs the brain-injury unit at the Rehabilitation Institute of Chicago, or R.I.C. The New York Times reported that "starting in early 2007, with a soldier whose brain was ravaged by a roadside bomb in Iraq and whose family learned that R.I.C. was rated the top rehabilitative hospital in the country by U.S. News & World Report, 15 soldiers wounded in Iraq or Afghanistan have made their way — often with the relentless advocacy of their families helping to pry payment from the military for private treatment — to Zollman's ward" at RIC.
As Shurvon continued his journey at RIC, Gail stayed at his side.
"The day I met him," Zollman said, remembering Shurvon's arrival at R.I.C., "I realized he was so in there." With sharp features accentuating brown eyes that appear almost as large as his, she said she felt a connection — "he was really present" — with something behind his still and silent appearance. Read full story at the New York Times
Gail was determined throughout Shurvon's life to give him the best experiences every day that they were together, and she would often call up a memory of talking with Shurvon before he left for combat.
She often remembered that before his deployment, when she would get upset about this or that difficulty in her life, he would say: " 'Mom, what are you crying for? If Plan A don't work, Plan B will work.' " Plan B was Gail's focus, and one that she embraced every day with hope and determination.
The End of the Journey, The Beginning of New Hope
Shurvon was Gail's third child, and he was the fixer of the family. Always very adventurous, he loved to spend his spare time working on computers. After graduating from Shaw High School in 1998, he joined the US Marine Corps.
While going through reserve training, Shurvon worked at Best Buy and Wal-Mart but it was not until he got to his orders to join the 3rd Battalion 25th Marines, when he found his passion.  He switched his military career from a computer tech to the Infantry.  Dedicated and hardworking, he quickly rose to the rank of Sergeant. His time spent serving with the 3/25 provided Shurvon with his most precious memories in spite of his injury during combat.
Bravely, with hard work, his mom Gail by his constant side, and the help of family and friends, Shurvon began to have some use of his arms and was beginning to walk. On Oct. 30, however, injury-related complications claimed his life.
According to the News-Herald, Shurvon's journey has opened up new hope for his family for friends.
"But in the face of the kind of grief and sorrow usually associated with the loss of such a young and vibrant life, Phillip's family, friends, loved ones, bothers and sisters in service took the opportunity Nov. 5 to honor his memory with joy, instead," the newspaper reported.
A distinguished list of military personnel spoke at Shurvon's memorial service, including René Bardorf, former deputy assistant secretary of defense for community and public outreach, U.S. Department of Veterans Affairs chaplain George Hankins, himself an Army Airborne Operation Desert Storm veteran, and fellow service member Tim Young.
Young, who was Shurvon's vehicle commander in Iraq, said "It doesn't matter if it's in combat or out in the world. It doesn't matter if we're in uniform or if we're wearing suits and ties," he said.
"This is important, because it's that commitment, that brotherhood… It's something you can't explain. It's something not a lot of people understand. It's what you are and it's not going to change. That's why we're here [to honor Shurvon], and that's why this is important."
A Trip of a Lifetime Celebrates Shurvon's Life
At one challenging point after his injury, Gail had said to Shurvon, "Wouldn't it be nice if we could just get away from all this and go to Hawaii?"  Close family and friends were aware of this dream, and quietly worked behind the scenes to help the mother-son duo get to their dream destination.
That's when the Wings for Warriors Foundation, the US Pain Foundation and ElDorado Mobility stepped in.  Wings for Warriors is a volunteer driven, 501(c)(3) non-profit organization in support of combat wounded military service members returning home from Iraq and Afghanistan.  Their support programs provide necessary tools, insights and resources for wounded veterans as they go through the recovery process and transition into new realities.
Wings for Warriors and ElDorado Mobility Uplift His Dream
Each year, the Wings for Warriors Foundation holds a gala in partnership with the US Pain Foundation to help fundraise for veteran's programs, and to spread awareness for their mission of support. The Wings for Warriors Gala; "A Night of Honor and Giving" took place on November 11 at the Arizona Biltmore in Phoenix, Arizona and honored veterans, spouses, and our military families for their sacrifices.
During the event, ElDorado Mobility representative Todd Hawk surprised Gail with a presentation that included the gift of her dream trip to Hawaii in Shurvon's memory. The all expenses paid vacation was donated by ElDorado Mobility, who had heard about Shurvon's journey through their partnership with the US Pain Foundation.
"We are so proud to support the important work of Wings for Warriors and the US Pain Foundation.  Shurvon and Gail's story shines a spotlight on the love, dedication and sacrifice all caregivers give to our wounded veterans, and we're happy to help Gail honor and celebrate her son's service to our country," said Jack Johnson, ElDorado Mobility's Marketing & PR Manager.
We hope to see some wonderful pictures from Gail's dream trip to Hawaii soon, and we'll be sharing those on social media for you too!
Follow Wheel:Life on Facebook and Twitter to stay tuned.
About Wings for Warriors Foundation
Wings for Warriors is a volunteer driven 501(c)(3) non-profit organization designed to help ensure that our combat wounded Iraq and Afghanistan War veterans returning home, or transitioning into the realm of their disabilities are getting the adequate healthcare and financial benefits that they deserve, and should expect from their local communities this type of support and outreach. We owe them that! Learn more at http://wingsforwarriors.org.

About US Pain Foundation
The mission of U.S. Pain Foundation is to educate, connect, inform and empower those living with pain while also advocating on behalf of the entire pain community. As a 501 (c)3 non-profit organization dedicated to serving those who live with pain conditions and their care providers, U.S. Pain Foundation helps individuals find resources and inspiration. Learn more at https://www.uspainfoundation.org.

Connect with ElDorado Mobility
Wheel:Life encourages you to explore the available options in custom van designs offered by ElDorado Mobility. "Mobility vehicles are designed to meet a wide variety of mobility needs, with versatile removable seating and maximum space for wheelchair maneuverability.  Your local dealer will work closely with you to customize the vehicle with additional equipment such as transfer seats, hand controls, and other specialized equipment," Johnson explains.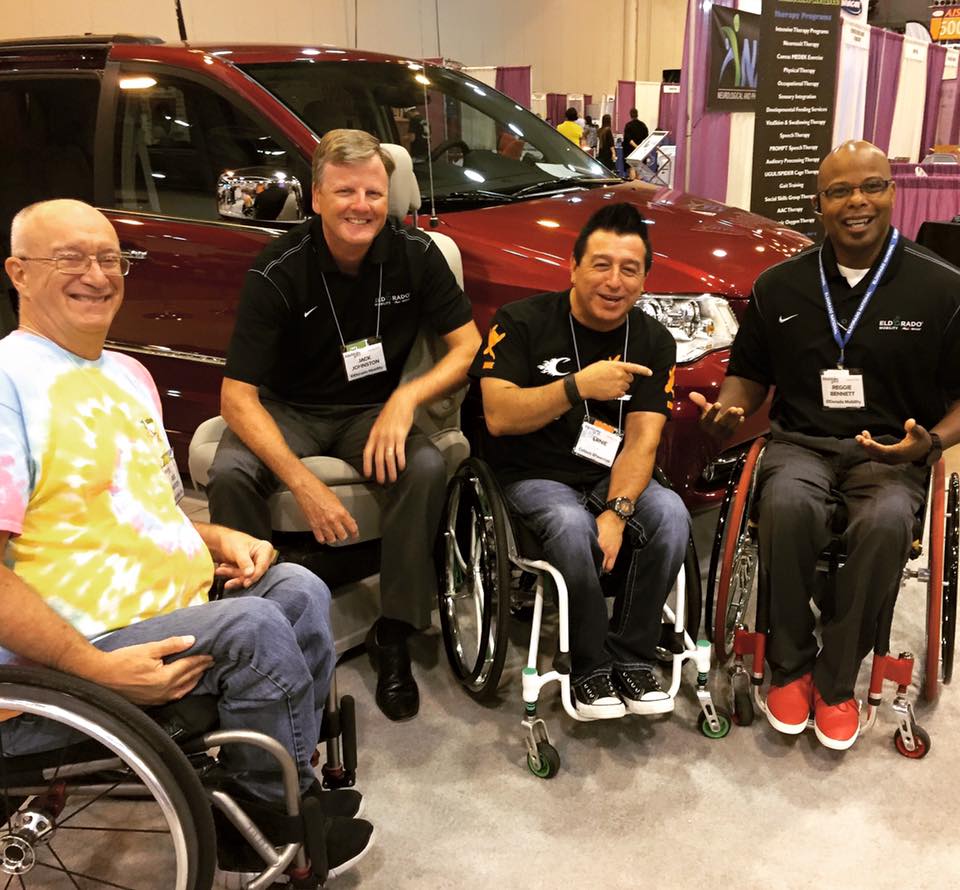 If you'd like to meet the ElDorado Mobility team, follow them on Facebook or visit with them at Abilities Expo events taking place nationwide!  Get your complimentary ticket at www.abilities.com. 
About ElDorado Mobility

At REV Group, our customers' stories move us every day, especially at ElDorado Mobility. We know every mobility van has one purpose — to connect wheelchair users to their world — and it's this mission that inspires our every innovation. The difference can be seen in our thoughtful features. We offer the industry's widest foldout ramp, featuring a 1,000-lb. rating, aircraft-grade aluminum and an integrated air ride suspension with kneeling system. Plus, you're protected with the industry's only all-stainless steel floor and a seven-year/70,000-mile warranty.
Visit our website to find your nearest ElDorado dealer and schedule an at-home demonstration today! Learn more at http://eldoradomobility.com.