NorCal SCI: Helping People Navigate Through Post-Injury Challenges
Editor's Note:  When Franklin Elieh and Nick Struthers, both living with spinal cord injury, met while doing volunteer peer support work at a hospital in northern California, they discovered there was a major gap in service for newly discharged SCI patients. Panic and anxiety was a common reaction when families realized they would soon be on their own. In 2017, Franklin and Nick decided to bridge the gap and launch the Northern California Spinal Cord Injury Foundation (NorCal SCI). Wheel:Life writer Betsy Bailey spoke with Elieh about the programs they offer and their plans for the future.
When I was injured nearly 30 years ago, the average stay at a rehab facility in northern Calfornia was four to six months. Today, it has dwindled down to just under four weeks, but people still have to learn the same exact things I did. At one month, your body has barely had enough time to settle down to the point where you can start doing physical therapy, yet you're told it's time to go home. Once these individuals are discharged, the hospital's responsibility stops, and patients are left to navigate their way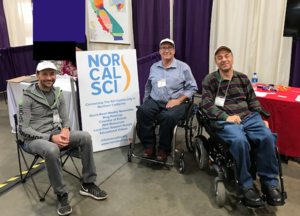 through this complex system and deal with a host of new challenges. The outcome of these individuals varies greatly, and a lot depends on their insurance plan, education, personal wealth, and support network from friends and family. All of those factors determine how things play out for each individual.
There are a lot of programs and services in northern California, but they're all sort of operating in a vacuum where not many people may know about them. As Nick and I were doing our peer support work, we came across many organizations doing great things. In southern California, there's an advocacy organization serving the SCI community called Triumph Foundation, but there wasn't an equivalent up north.
After doing a little research, we estimated that there are roughly 14,000 individuals with SCI living in northern California and about 600 new cases every year.
We were seeing all these newly injured people and how shell-shocked they were, and we wanted to make sure they had an effective way of getting the help they needed. So, in May of 2017, we started NorCal SCI.
As things started coming together and we brought on board members, we also applied for and received 501(c)(3) status. Additionally, we created a website full of resources across various subject matters. We take a lot of time to ensure the content is accurate and that it serves the individuals we're trying to reach.

Keeping You in the Know
One primary component of NorCal SCI is our weekly newsletter. It goes out every Tuesday morning without fail. The email contains curated stories about various events, research in the SCI field, advocacy work, or anything else we feel our audience should know about. The newsletter is our digital outreach in the community.
Peer Mentoring
In 2017, we collaborated with United Spinal Association to train 27 people in peer mentoring techniques. If someone gets a hold of us looking for support, we can connect them with a mentor nearby. Over the years, we've developed a lot of knowledge that we try to share with newly injured people. We're not reinventing the wheel; we're just putting people in touch with the solutions that are already out there.

Financial Assistance
Another program we've developed is Road to Recovery, where we offer up to $2000 to individuals to pursue additional therapy, buy specialized medical equipment not covered by insurance, or make minor home modifications. We've been able to give out 15 grants totaling $30,000 so far since April of 2017. For 2019, we will distribute $60,000 worth of grants.
Care Packages
We also offer a care package program that consists of a backpack filled with information about SCI and some small tools to help people navigate their way through their new journey. Starting this year, we're including a Google Home Mini or Amazon Echo Dot. Someone who doesn't have good use of their arms isn't going to be able to use a computer or phone easily.
With these devices, they can use voice prompts to achieve a great deal of independence.
For very high-level injuries, we offer a Fleximug, an aluminum encased mug that attaches to a bed or wheelchair. It has a long, flexible straw that can be placed near the person's mouth for easy access. Once it's filled with a beverage, the injured person can drink out of it without having to constantly ask for help.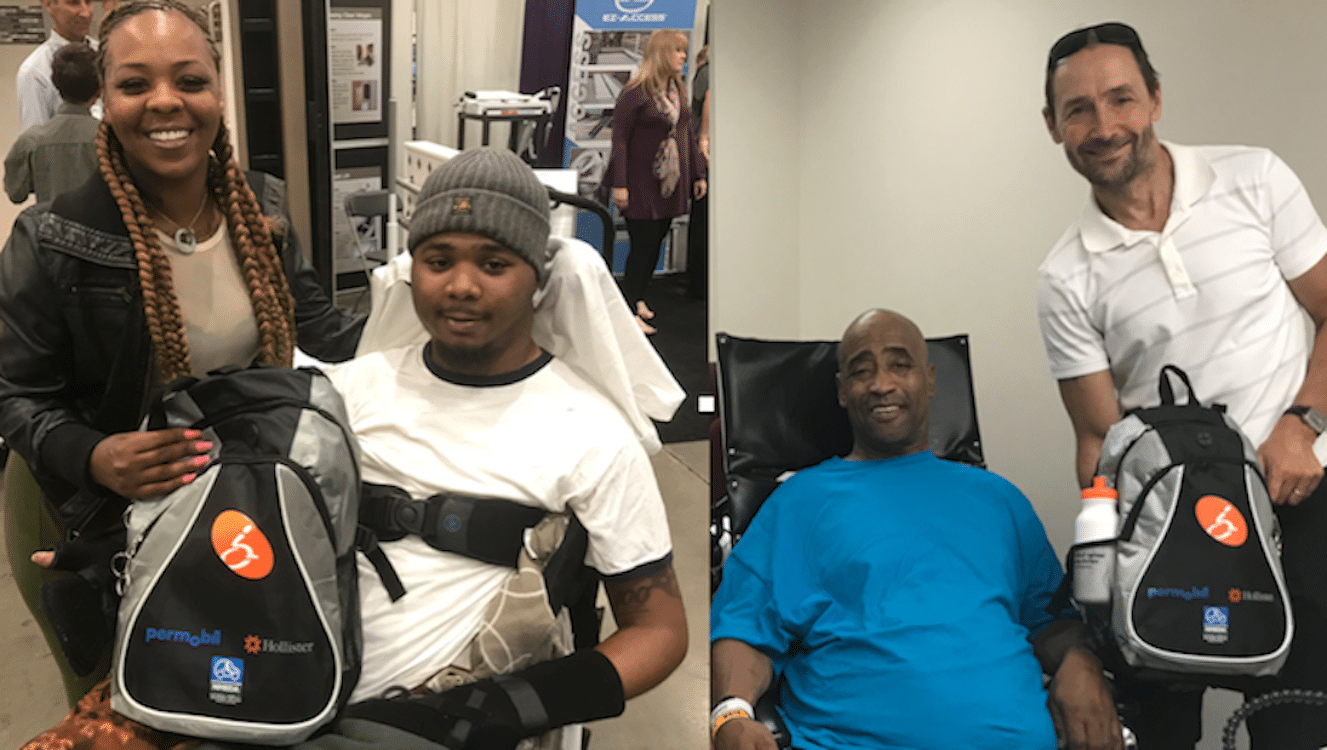 Reaching the Underserved
Another service we offer is our mobile clinic. In the San Francisco Bay area, there are a lot of great medical professionals specializing in SCI, but as soon as you leave the region, there's a gap in quality resources. For example, not all urologists have experience with SCI patients.
If you have an SCI and urological issues, which is almost always the case, you want to make sure you're being seen by someone who knows how to handle situations unique to your condition.
The same is true with physical therapy, pressure sores, spasms, etc. For our mobile clinic, we gathered a group of volunteer medical professionals with specific expertise in SCI and went down to San Luis Obispo to meet with individuals with SCI living down there. Patients were seen for an hour each and were able to talk about challenges they were facing with SCI experts. In 2019, our goal is to take our mobile clinic to two new underserved communities and go back to San Luis Obispo as well.
Equipment Donations and Distribution
When we started getting contacted by people who wanted to donate their medical equipment, we realized we could fulfill a need within the community. So, we started promoting and advertising the equipment we received. People can give standing frames, shower chairs, wheelchairs, or other equipment they no longer need, and we'll find someone who can benefit from it.
Community Advocacy
Editor's Note:  Last summer, NorCal SCI began advocating for an accessible boating center at Vasona Lake in Santa Clara County. After several meetings and discussions with county supervisors and parks and recreation staff, a plan was approved on December 18, 2018.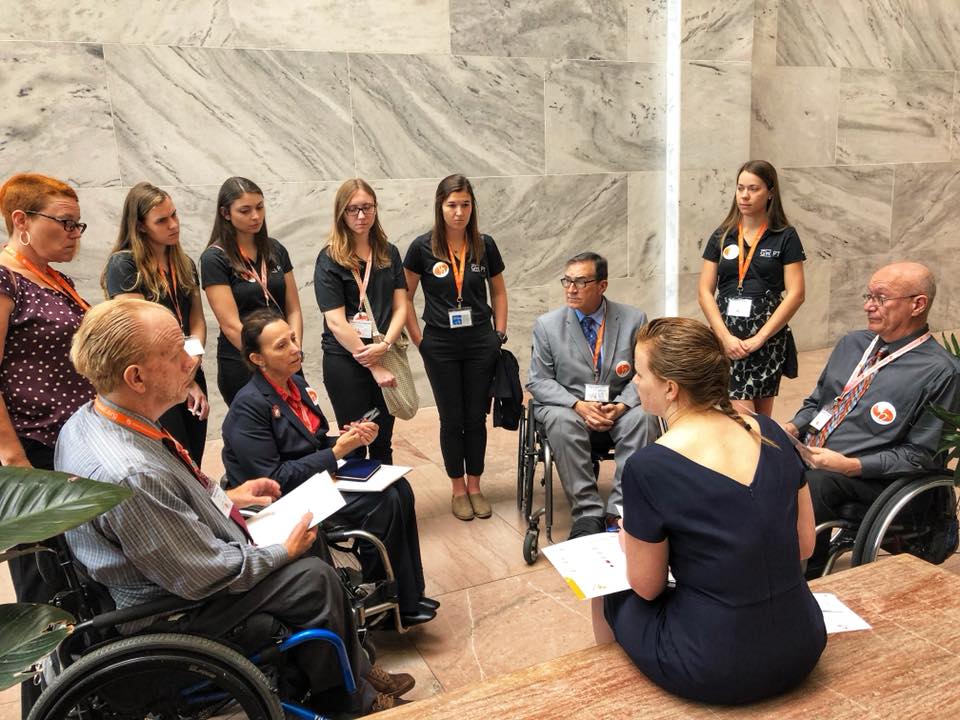 I can say that this was the highlight of our year. I was at that meeting when the motion passed and have to admit that I shed tears of happiness. This was part of our advocacy work that got the county to invest nearly $600,000 to make the boating center accessible. More of this type of work could and should be done across the country by those with disabilities, and my hope is for people to be motivated by our success and push their civic leaders to do more for the disability community.
Here to Help
My advice to someone who is newly injured is to ask questions.
There are a lot of organizations standing by to assist you, and they can make your life easier.
There's no point in reinventing the solutions that are already out there. It's just a question of knowing who's credible and knowledgeable about your particular situation. Nick and I are committed to doing this and helping as many people as possible. We're here to serve you, so however we can do that, get a hold of us and let us know.
Editor's note:  For more information about NorCal SCI and the programs offered, visit www.norcalsci.org.
If you feel your region could benefit from an organization dedicated to the SCI community, contact NorCal SCI for guidance on launching a foundation near you. They can be reached via email at info@norcalsci.org or by phone at (408) 458-9863.
All information from this article was extracted from phone and email communication with Franklin Elieh and www.norcalsci.org.
About the Author
Betsy Bailey has a diverse background including experience in marketing research at American Express, business operations and client relations with 601am, travel and culinary writing with VegDining, and playing volleyball professionally overseas.
Betsy has been writing for Wheel:Life since January of 2017 and thoroughly enjoys the process of getting to know her interviewees. She also teaches students learning English as a second language, speaks French fluently, and travels any chance she gets!