Avoiding Slippery Slopes with Garth Walker and National Ramp
Editor's Note: After selling his prior business, Garth Walker went to work for his father's home modification company. When presented with the opportunity, Walker, along with his partners, bought National Ramp in 2010 and have been growing and improving the product line ever since. National Ramp dealers service the entire United States and Canada and all products are manufactured exclusively in the USA. Wheel:Life writer, Betsy Bailey, chatted with Walker to learn how they gained so much traction in the ramp industry.
How We Work
National Ramp sells through a dealer network, and that really sets us apart from a customer service standpoint. With our previous home modification business, we used to be a National Ramp dealer. That helped us tremendously once we got into the manufacturing business. We knew the pitfalls and frustrations that can go along with being in the field two hours away from your shop, and you're missing some parts that the manufacturer forgot to ship, so you can't finish the job. Your customer is upset, you're upset, and you just wasted your time and your seller's time and everybody is really frustrated. Not only does our previous experience as a dealer help us to see their point of view from a service standpoint, but also we are able to give them a tremendous amount of knowledge from a marketing standpoint because of the fact that we've been in their industry, and we've really focused heavily on building our brand and getting our name out to the marketplace.

When we took over the helm at National Ramp, we designed a unique program to support our dealer network. It is a full comprehensive program to train our dealers, not just on how to put the ramps together and the technical side of it, but also to train them on sales and marketing techniques that we had learned while in the industry. We realized that if we can help our dealers sell more product by giving them tools, training, ideas, and support, it's better business for both of us. If we help our dealers sell more ramps, then we sell more ramps, and now everybody is getting more business.
We took all of that experience and transformed it into the "Ramp It Up" training program. That was really a breakthrough in the industry. We put together some fantastic tools to help them sell, such as an online ramp configurator, so that they can go out in the field and draw a ramp right then and there, so the customer knows what it will look like. We also give them a second to none product line that enables them to close every deal. We have aluminum ramps, steel ramps, and we came out with the very first modular wood ramp in the industry.
Our Ramps: Your Freedom, Your Choice
Aluminum
We introduced the very first aluminum open mesh ramp design in the industry. The open mesh ramp has some extremely valuable characteristics to it, such as the ability for rain, melting snow, and even snow itself to actually pass through the surface, therefore providing a very safe ramp with ultimate traction for people going up and down a slope. There's no puddling because it has natural drainage. If there is snow on the ramp, the snow can pass through. If it starts to melt, it can drip and go through the ramp rather than melting, then puddling, then refreezing.
Steel
When we started doing the aluminum open mesh ramps, our dealers were very excited and happy to have a unique selling proposition. However, it is more expensive than some of the steel ramps out there. So, we came up with another product: a powder-coated steel mesh ramp. It has all the advantages of the open mesh, but it takes away some of the major problems with steel ramps, namely the rust issue. The way powder coating works is you take your raw steel, you treat it, and then you apply a very fine powder coating to it. It's kind of like paint, but in powder form. We actually charge the steel ramp with electromagnetic forces, and then we charge the powder coating itself, so they're both statically charged. We spray the powder coating onto the metal, and because they're both charged, the particles cling to the metal. Then we take the powder-coated pieces and put them in an extremely high heat oven, which bakes the finish onto the steel. The net result is that it's basically twice as durable as a painted finish, so it's protecting the steel much more. Even if it gets scratched and the raw steel is exposed, it doesn't flake off like paint does. It's a much better product than anything else out there, because other steel ramps will rust very quickly and look awful.
Wood
As we continued to grow our business and meet with our dealers, we asked them what challenges they were facing. One of the challenges was losing ramp sales to contractors who were custom making wooden ramps for homes. Of course, being a manufacturer, you have to look at the needs in the marketplace, and one of the needs was for a modular wood ramp that we could sell to our dealers and they could sell to their customers for the same price or less that you could get a custom-built wood ramp for. It normally takes a contractor anywhere between three to five days to build a custom ramp, not to mention the fact that it's a permanent addition to the home, so there may be property tax implications, requirements for building permits, concrete footings, and all that sort of thing. Our ramp is a temporary modular ramp that you can put up in two to three hours. Someone can get a wood ramp the next day. These are temporary, freestanding, modular ramps, so the majority of time, a building permit is not required.
Rubber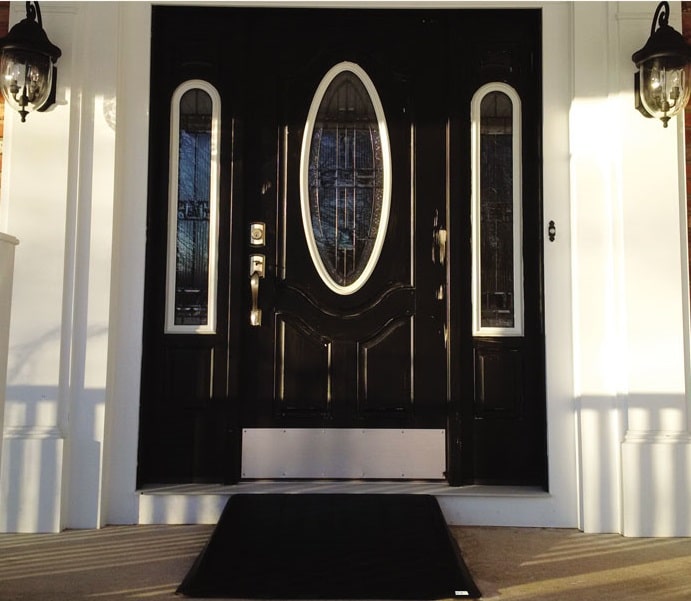 For someone who has a really small threshold at their door and they just need to get over that bump without jarring themselves in their wheelchair every time they go in and out, we have rubber ramps. You can get right down to a 1/4 inch all the way up to 5 inches. It's a giant rubber wedge that you put at the threshold and it helps you transition up and down over the doorway.
Why Choose One Over the Other?
It often comes down to pricing, but also aesthetics and personal taste. That's why our slogan is "Your Freedom, Your Choice".
Weathering the Storm
We have tie-down kits that are used for areas prone to hurricanes. When Hurricane Sandy came through the Northeast, it hit New Jersey and Long Island pretty badly. The whole boardwalk in Long Beach, New York, got washed out to sea. One of our mesh ramps was at Long Beach Medical Center and the floodwaters camp up through that ramp; just like rain and melted snow can pass through the top, floodwaters rising went right through the ramp as well. So while many other ramps were lifted up and washed out to sea, our ramps were actually in good condition after the storm because they were able to weather the flood. That was an interesting phenomenon that we hadn't even thought about until Hurricane Sandy came through.
Giving Back
We donated a ramp to the Ronald McDonald House in Albany, New York, which provides housing for people that need to live in the area because their child is going to a hospital nearby.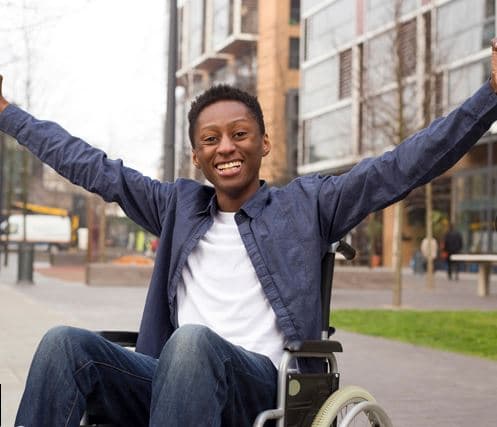 We provided the ramp so that children with disabilities or those undergoing medical treatment can get in and out of the house.
A woman in Yonkers had a ramp at her house, and right before Christmas one year, someone stole it. One of our dealers got wind of it and called us up and said if we donated a new ramp, they'd put it in at no charge. So we said absolutely!
We're a huge supporter of the VA and we donate every month to worthy veteran causes, like the Wounded Warrior Project, Paralyzed Veterans of America, etc. Charity is a huge part of our lives.
Editor's Note: For more stories on how National Ramp gives back, visit their blog.
Serving Veterans
The government provides ramps to Veterans. There are so many Veterans out there that need ramps. We are very fortunate to have won a large government contract recently to provide ramps to Veterans. I don't think enough Veterans are aware that the VA will provide them a ramp if they need it.
New Products in the Works
We're really excited about two brand new product lines that are in the works. We have two new prototypes, and we're in the testing phase right now. In two to three months we'll be able to tell you exactly what they are!
How To Get One of Our Ramps
Go onto our website and get an education about the different ramps. Then all you need to do is pick up the phone and call 1-877-884-7267 (toll free) or fill out the web form on the Contact page and let us know you're looking for a dealer in your area. We'll put you in touch with one immediately.
Knowledge is Freedom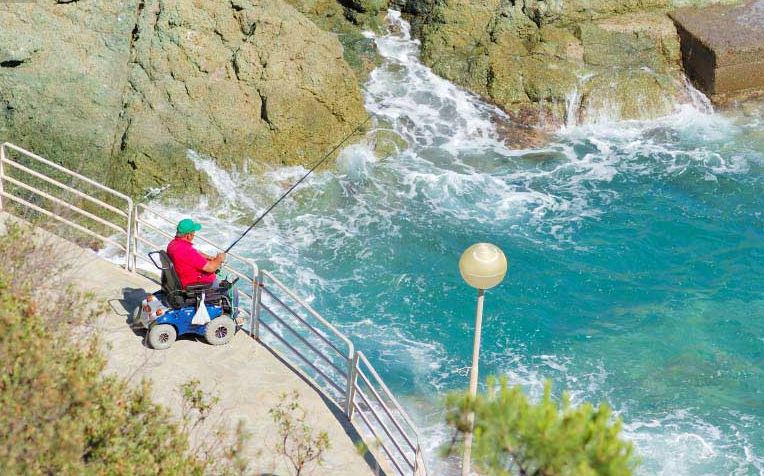 I think the biggest thing that we can share with Wheel:Life readers is information. A lot of folks out there are not aware of ramps and what ramps can do for them. They're not aware that a modular ramp can go up so quickly. We had an incident in my family where my dad was in a car accident a couple of summers ago, and he broke his kneecap. He was able to get a ramp the next day, so that he could get in and out of his house and get his life back. We able-bodied people take it for granted that we can wake up in the morning and just do everything. Someone who is disabled doesn't have that luxury. With my dad, he was a perfectly healthy, walking individual one day, and the next day he was in a wheelchair and couldn't do anything. He couldn't get out of his house.
We're giving him and millions of others their freedom back; we're giving them their lives back.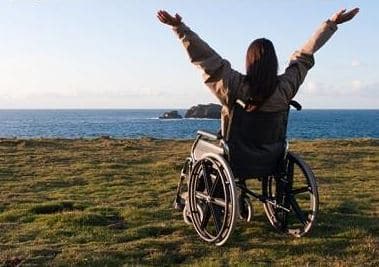 If you need to go to the doctor's so you can get better, you can't get there when you're stuck in your house like that. You can't get out and go play bingo, or go see your grandkids, or go to the park and just enjoy life. I think education on what is possible with ramps is such a huge task for us. It's amazing when we go north and cross the border into Canada, the lack of knowledge about ramps is staggering. People don't know that you can get a modular ramp. They automatically think "if I need a ramp, I need to get a huge wooden ramp in my front yard, and it's going to be ugly and massive, and take away from the resale value of my house."
It's just such a huge mind block that they end up not doing anything. We've seen so many crazy, dangerous things, like people getting carried up and down the stairs, or people putting a sheet of plywood at their front door. If people were aware of ramps and that we have the ability to do a modular ramp pretty much anywhere they need it, or even get a rubber threshold ramp at the door, it would make everyone's life so much better.
About the Author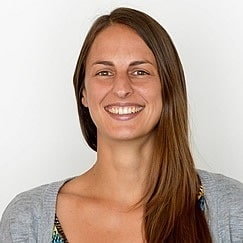 Betsy Bailey has a diverse background including experience in marketing research at American Express, business operations and client relations with 601am, travel and culinary writing with VegDining, and playing volleyball professionally overseas.
Betsy is excited to get back into writing, something she's adored since childhood, and thoroughly enjoys the process of getting to know her interviewees. On top of her work with Wheel:Life, she also teaches students learning English as a second language, speaks French fluently, and travels any chance she gets!